Public Works
West Cashmere Bridge Replacement (CRP 693)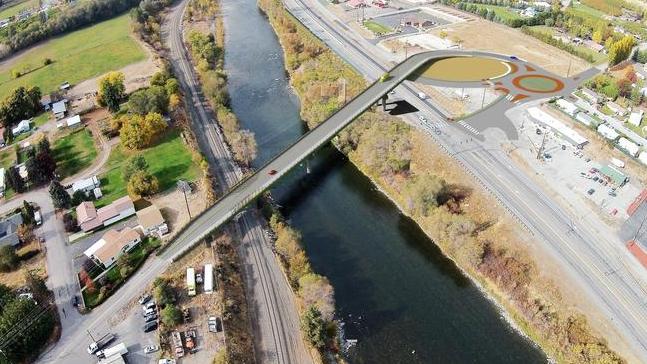 CONSTRUCTION UPDATE
POSTED FEB. 9, 2021: Three of the four piers that will support the bridge are nearly complete. The piers are a part of what is called the substructure of the bridge. The substructure is about 70% complete. The final pier should be started in the next couple of weeks. The old steel through-girder will be hauled away in February. We expect the new girders to be placed around April.
The West Cashmere Bridge and Goodwin Road are closed. Goodwin Road is open to local traffic, which includes customers and vendors visiting the businesses on Goodwin Road.
Construction News
Updated: In-water work to begin July 15
Construction Update Video (May 29, 2020)
Press Release: County awards $19.3 million contract to build new Cashmere Bridge
Letter to Local River Rafting and Kayaking Companies (March 4, 2020)
Project Description
The West Cashmere Bridge is a 91-year-old, fracture-critical bridge, both functionally obsolete and structurally deficient, with a sufficiency rating of 25.18. It is currently posted for both weight and height restrictions. The new structure will be built in approximately the same location as the existing bridge. The new bridge will be 44 feet wide and 1,000 feet long. In February 2020, a $19.3 million contract was awarded to SB Structures of Seattle for the construction of the new West Cashmere Bridge.
In 2012, through these fracture-critical inspections, it was estimated that within 10 years there would be a substantial decrease in the bridge's load-carrying capacity – due to the progressive deterioration of the structural elements – unless major rehabilitation of the bridge's structural components are performed. The County coordinated with stakeholders to complete a planning-level study analyzing the access points into Cashmere, identifying their related freight routes and evaluating the old bridge to develop a scope of the type, size and location for its replacement.
The Chelan-Douglas Transportation Council has considered the West Cashmere Bridge Replacement Project to be of regional significance and is one of the top three priority projects within Chelan and Douglas counties.
Estimated Construction Schedule
The full construction schedule is available here. Please note this is an estimate. The schedule is subject to change and is provided as a general guide.
Recently Completed:
New bridge substructure construction.
Ongoing:
Demolition work is beginning on the south side of the bridge (Goodwin Road side).
Upcoming:
Set bridge girders.
Construct bridge deck.
Construct roundabout at Hay Canyon.
Funding
The West Cashmere Bridge Replacement Project is being paid for with a variety of federal, state, local and private funding.
| | |
| --- | --- |
| Project Total | $25,500,000 |
| AWARDED | |
| Bridge Replacement Advisory Council | $12,000,000 |
| Freight Mobility Strategic Investment Board | $3,000,000 |
| Rural Arterial Program | $2,500,000 |
| Legislative Discretionary (WSDOT) | $2,000,000 |
| Statewide Transportation Block Grant Program | $2,450,037 |
| Highway Improvement Program | $149,963 |
| Private (Crunch Pak) | $150,000 |
| WSDOT (NC Region) | $270,650 |
| Chelan County | $2,979,350 |
Posted: 07/28/2015 11:57 AM
Last Updated: 02/09/2021 08:17 AM