Public Works
Pavement Preservation Program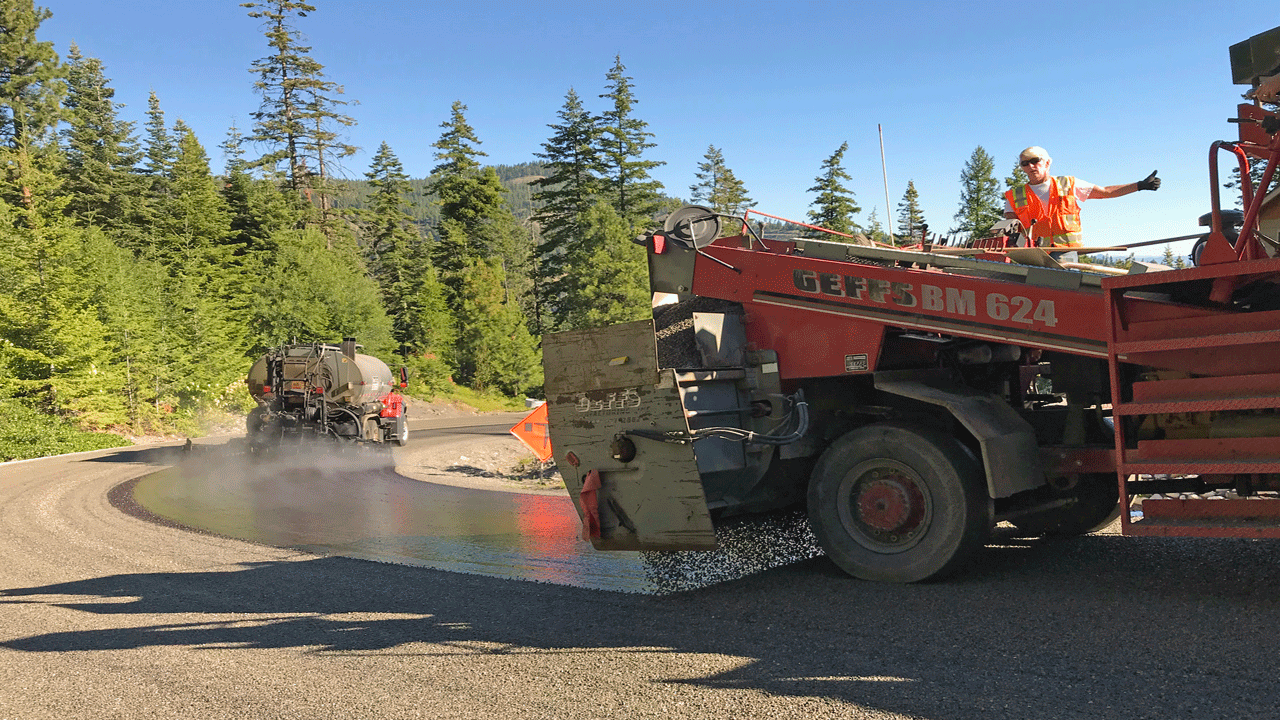 As road pavement degrades during its life, cracking forms from traffic and weather exposure. Cracks allow water to penetrate the roadway and can result in frost action (repeated expansion caused by freezing and thawing of water), pavement upheaval and even collapse. If a road has a thin sub-base or is in an area of poor drainage, the degrading process can even be exacerbated. If left untreated, the amount of deterioration – along with the cost of repair – then increases rapidly.
How Roads are Rated
Every two years, about 534 miles of county roads are surveyed and scored in Chelan County. This allows the county to determine when to rehabilitate a road at the time of least lifecycle cost.
The scoring system is called a Pavement Surface Condition (PSC) rating. The PSC number is used to define what state pavement is within its life and what fix is required. The scale is 1-100, with 0-19 being "very poor," 20-40 "poor," 40-60 "fair," 60-80 "good," and 80-100 "very good."
The county's goal is to rehabilitate at the time of the least life cycle cost, which typically happens within the fair zone. A road rated with a fair score, for example, may cost about $48,000 a mile to chip seal. That cost jumps to $200,000 or more a mile once it hits poor or very poor because the roadway may need to be rebuilt.
The 2023 list of roads scheduled for chip sealing is available here.
Not all roads can be rehabilitated with simple routine maintenance or chip sealing; they may need costly fixes and require the county to secure additional funding. So if you question whether the road in front of your house is scheduled for future chip sealing, or for a future project, look for it on the map below or on the Capital Projects page.
The Chip-Sealing Process
Chip-sealing is a three-step process: crack sealing, pre-level work and then, lastly, chip sealing.
Crack sealing is just what it sounds like. It's a preventative maintenance step where hot sealant is filled into cracks in the roadway to prevent against further water damage.
Once all the roads are crack sealed, crews return for pre-level work. Crews apply a thin layer of asphalt over Preservation Program roads to fill in ruts and low spots in preparation for chip sealing.
Chip sealing is a coating of liquid asphalt and gravel applied to an existing roadway. Chip sealing, when all the steps are completed, is effective for seven to 10 years.
To allow each process to cure – and for efficiency – each step of the process is completed throughout the county prior to moving onto the next one. This means that if you live on a road slated for the Preservation Program, it's likely you will see crews in front of your home more than once during the summer road construction season.
Sweeping typically occurs two to three days following application, and again within two weeks, as necessary. It is county practice to reopen roadways immediately following application to lessen inconvenience to the traveling public. General traffic flow also enhances the performance of the application through additional kneading of aggregate into the underlying oil.
What to Expect
The chip-sealing process in Chelan County typically starts before Memorial Day and ends just after Labor Day. It typically takes less than one day per road; however, the process is highly weather dependent. The schedule relies on equipment functioning properly, and, in most recent years, the wildfire season also has impacted the chip-sealing schedule. Keep up on where crews are at during the chip-sealing season by following Chelan County Public Works on Facebook.
Motorists should expect travel delays during both the pre-level and chip-sealing processes. Expect to see one-lane, flagger-controlled traffic with up to 20-minute delays. Motorists are advised to find alternate routes when crews are in their area.
For property owners living along a roadway slated for chip sealing, we recommend:
Remove all vehicles and RVs from the roadway.
Plan to see the road crew as early as 7 a.m., or earlier if temperatures are expected to be hot that day.
Keep your speed under 20 mph not only while crews are working for a few days after they leave. This lessens the chance of loose rock hitting your vehicle or its windshield.
Keep pets indoors or fenced in the yard for their safety.
Bicyclists and motorcyclists should use extra caution.
When chip sealing is applied to a roadway, loose gravel remains on the surface for a few days and up to a couple of weeks following application. This allows the underlying oil to completely cure before redundant aggregate is swept up.
The above map shows work planned for the Chelan County Public Works' Preservation Program for the current year and next year. Please note that roads shown in the Preservation Program map are subject to change.
Posted: 11/18/2014 10:45 AM
Last Updated: 04/25/2023 01:41 PM