Public Works
Squilchuck Creek Outfall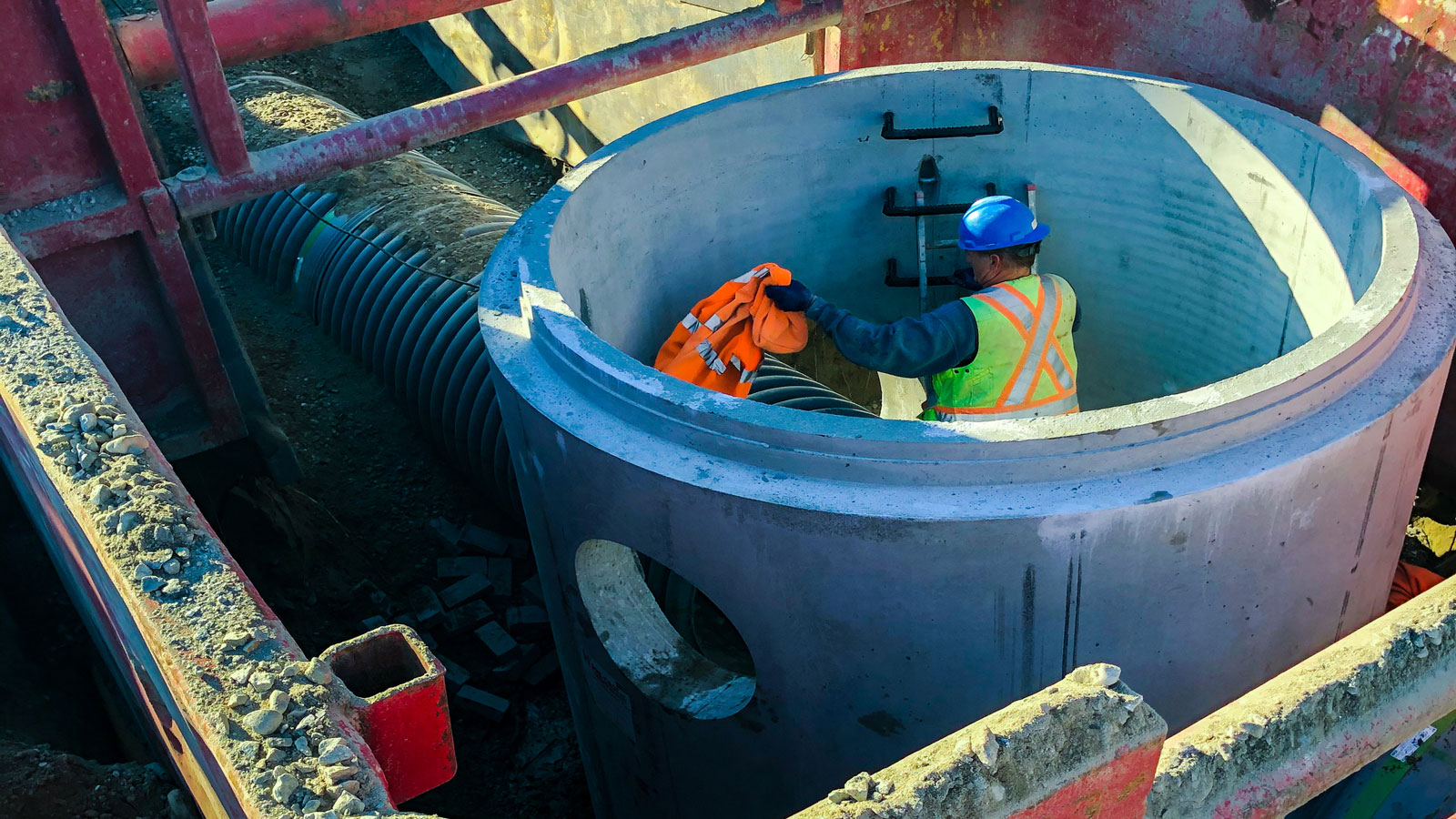 Photo above was taken in November 2019 as part of the first phase of this project.
Project History
The Squilchuck Creek Outfall drains a 100-acre basin in south Wenatchee that includes residential, commercial and industrial properties. Two stormwater trunklines running to the west along Viewdale Street and Terminal Avenue intersect a line that runs to the south on South Wenatchee Avenue before outfalling to Squilchuck Creek, which leads to the Columbia River.
When completed, the project will retrofit 500 feet of the existing stormwater conveyance system and provide water quality treatment if a short-duration storm should send contaminants such as oil, grease, anti-icer, sediment and other pollutants from the community into the creek, home of endangered species such as steelhead trout and spring chinook salmon as well as resident rainbow trout.
Project Description
Originally, this project was planned to be completed in one phase. However, in June 2019, a large sinkhole developed on South Wenatchee Avenue after a period of heavy rains. The existing stormwater conveyance system under the collapsed roadway was deteriorated beyond repair.
Because the conveyance system was slated for replacement, Chelan County decided to make the emergency repairs to the stormwater system and the roadway on South Wenatchee Avenue. The work was completed in October 2019 at a cost of $207,853.
In August 2021, the remainder of the project was awarded to Olin Excavation of Entiat at a cost of $188,820. The contractor will install a stormwater catch basin, specifically developed to provide water quality treatment, on South Wenatchee Avenue between the Malaga-Alcoa Highway and the Squilchuck Outfall. The catch basin allows sediments to settle to the bottom of the basin and the cleaner water to flow into the creek and river.
Construction Schedule and Impacts
At this time, a contractor is building the concrete catch basin. Construction will begin in late October or early November 2021 and will take 15 working days.
Traffic impacts during construction will be one-lane, flagger-controlled traffic in the work zone; no road closures are anticipated, but motorists should expect minor traffic delays. Chelan County will notify the local school district, emergency responders, Waste Management and the post office of the upcoming project.
Project Funding
The Surface and Stormwater Management Utility in 2018 received a $550,000 grant from the state Department of Ecology for this project.
Posted: 08/18/2021 01:38 PM
Last Updated: 08/20/2021 09:15 AM