Superior Court Clerk
Passport Information
Effective October 19, 2020 we will process passports by appointments only.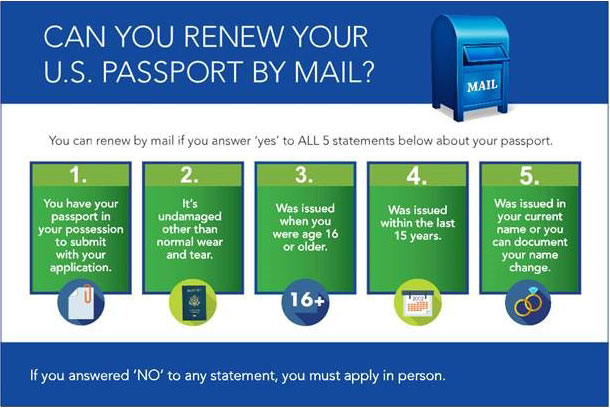 Checks or Money Orders for Passport Fees only.
Passport Application Hours (by Appointment Only)
9:00 A.M. - 11:15 A.M., 1:00 P.M. - 3:15 P.M.
Applications cannot be processed after 3:15 P.M.
Courier and Expeditor Companies
Courier companies, also known as "passport expeditors," are private companies, some of which are allowed to submit passport applications on behalf of customers.
Thinking of using a courier company? Here are a few things you should know:
These companies do not operate as part of the U.S. Department of State.
You will not receive your passport any faster than you would if you applied in person at a Passport Agency.
Courier companies charge additional fees for their services.
You are still required to appear in person at an acceptance facility if applying on Form DS-11, even when using a courier service.
Notice: If you are using 3rd party agency or company to process your passport our office is prohibited from completing authorized agent information on your application.
Photos and Passport Application Processing
The Clerk's office acts as an agent for the federal government in processing passport applications. Passport applications are mailed by the clerk on the same day they are received, but regular processing at the national level takes ten to twelve weeks. Some countries require a VISA for entry. It is necessary to have physical possession of a passport before applying for a VISA. Go to www.travel.state.gov to learn more about how to get a VISA.
Processing Options
Routine
10-12 weeks
Expedited
4-6 weeks
Expedited at Agency
8 Business days - Based on need, restrictions apply
Requires appointment with Seattle Passport Office
Passports for age 16 years of age and older are valid for 10 years. For under 16 years of age passports are valid for 5 years.
Type of Passport Service
Passport Fee
Pictures
Clerk Processing Fee
Total Fees per Application
New application for an adult age 16 or older
$110.00

$10.00

$35.00

$155.00

New application for a child age 15 or younger

$80.00

$10.00

$35.00

$125.00

Expedited service charge per application

$60.00

None

None

$60.00

Renewal for adult expired passport but issued date is less than 15 years ago

$110.00

$10.00

No fee if processed by applicant. $35.00 if processed by clerk.
$120.00 without process fee
$155.00 with process fee
Renewal for adult expired passport and issued date is more than 15 years ago

$110.00

$10.00

$35.00

$155.00

Passport Card Age 16 and over

$30.00

$10.00

$35.00

$75.00

Passport Card Age 15 and under

$15.00

$10.00

$35.00

$60.00

Passport Card Age 16 and over with valid passport

$30.00

$10.00

No fee if processed by applicant $35.00 if processed by clerk
$40.00 without process fee
$75.00 with process fee
You will need to provide the following to the clerk:
The passport fee must be check or money order payable to U.S. Department of State.
Pictures & Clerk's Processing fee should be check, money order or cash payable to the Chelan County Clerk.
* If you choose to pay by credit or debit card the processing company charges a 3.5% convenience fee.
Proof of US citizenship. (a certified copy of birth certificate, Naturalization Certificate, or previous passport) For information on how to get a birth certificate go to www.vitalrec.com.
Completed in BLACK INK ONLY WITH NO WHITE OUT and UNSIGNED passport application form.
Forms are available on the Internet at www.travel.state.gov, Clerk's Office, or travel agencies.
Two (2) passport photos which must meet federal requirements. Glasses are no longer acceptable in passport photos.
Picture identification (valid drivers license).
All children must appear in person.
Children under age 16 must appear and:
Both parents must appear to sign the application.
Show valid personal identification.
Present evidence that they are the parents or guardians, i.e.(parents name on birth certificate).
Sign and take oath.
If the second parent is not available to sign, the appearing parent must present evidence that he/she has:
Sole legal custody.
Written consent of the other parent for the issuance of the passport (must be notorized) within the past 90 days and photocopy of driver's license front and back. https://travel.state.gov/content/travel/en/passports/how-apply/forms.html
Written statement explaining why non-applying parent's consent cannot be obtained.https://travel.state.gov/content/travel/en/passports/how-apply/forms.html
Posted: 01/16/2015 05:00 PM
Last Updated: 05/13/2021 12:34 PM