Superior Court Clerk
General Jury Information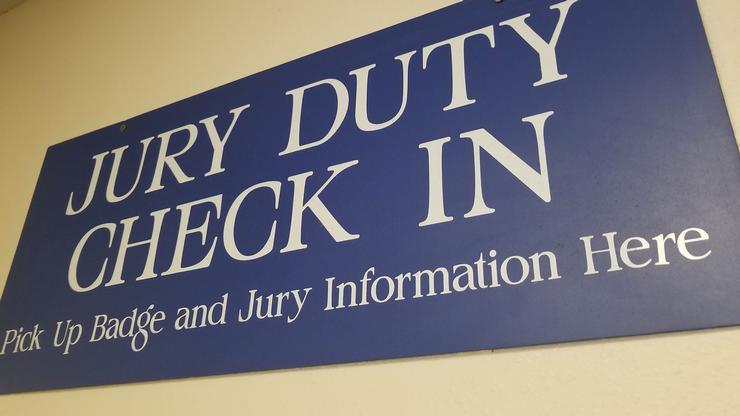 Chelan County Superior Court will resume jury trials September 15, 2020
CHELAN COUNTY, September 8, 2020. Chelan County Superior Court will resume jury trials September 15, 2020, after pausing them in April of 2020 pursuant to an order from the state Supreme Court in response to the coronavirus (COVID-19) pandemic. This meant that a very large number of felony criminal trials were put on hold over the past three and a half months, creating a backlog of trials and causing many defendants to wait for their right to have their case heard by a jury.
The suspension of jury trials was needed to protect the health of court users and court staff. This pause provided us the opportunity to redesign our jury processes with the input of public health officials. However, now it is critical that we restart jury trials, which are key to the fair administration of justice. Jury service is a vital civic duty. The Sixth Amendment of the United States Constitution and Article One, Section 22 of the Washington State Constitution provide the right to every criminal defendant to have a trial by a jury. The justice system depends on the service of the citizens of this County to uphold a defendant's constitutional rights.
Extensive new safety precautions have been implemented to protect juror safety and public health as trials resume to prevent the spread of COVID-19. Judges, attorneys, court staff, and public health officials worked together over many weeks to establish new safety procedures and guidelines so that we can safely resume jury trials.
New jury processes include:
Jurors will report at staggered times on the first day of trial so that no more than 16 potential jurors will be present in the jury assembly room or courtroom at one time. The courtroom can accommodate approximately 16 jurors at a time taking into consideration appropriate social distancing.
All jurors and potential jurors are required to wear masks in the courtroom.
Attorneys, parties, and witnesses are also required to wear masks in the courtroom unless actively speaking as a part of the trial process. Anyone actively speaking without a mask will be required to be at least six feet away from other persons.
Court staff and judges will either be wearing masks or have a plexiglass shield around them.
Each group of jurors will be questioned by the attorneys for each side and then excused with instructions that they will be notified later that day as to whether they have been selected and when to return.
Once the jury is selected, the jurors will be spread out throughout the courtroom to ensure proper social distancing occurs. This means that jurors will be seated in the benches which are typically used by spectators because the jury box is not large enough to accommodate the social distancing requirements.
The normal jury room used for breaks will be used by only one half of the jurors and the other half will be placed in the second jury room for all breaks.
Jury deliberation will occur in one of the courtrooms to ensure the jury has sufficient space to spread out during deliberations.
Proper sanitization will occur after each individual use of any table, chair, microphone, pens, or any other item used by individuals in the jury selection process.
Chelan County Superior Court remains committed to the safety of our jurors and the public. The Court will hold people strictly accountable to the requirements of both masking and social distancing. It is incredibly important that everyone understand our justice system needs jury trials to resume and these safety requirements are necessary to make that happen while protecting the community.
It is critical for potential jurors to respond to summonses! We appreciate your willingness to participate in this most important civic role by serving on jury duty.
For more information, see our FAQs and other details on our web site at https://www.co.chelan.wa.us/superior-court. If you have additional questions or concerns about jury service, you can contact the Jury Administrator.
CONTACT:
Chelan County Superior Court: superiorcourt.judge@co.chelan.wa.us - 509-667-6210
Chelan County Clerk: superiorcourt.clerk@co.chelan.wa.us - 509-667-6380
Download original Press Release
Juror Frequently Asked Questions During COVID-19 Pandemic
Are jury trials still needed? Yes, they are. Jury trials are a keystone of the justice system. They are critical to fair hearings and a key constitutional guarantee (Sixth Amendment, U.S. Constitution) for all.
Will jury service be in person or via virtual means? Jury service will be in person. There are many reasons for this, including constitutional rights of the accused, access to attorney presentations, access to evidence/exhibits and to facilitate juror discussion during deliberations.
What if I am in the high-risk category or I am an essential worker? Can I be excused or rescheduled for jury service? Yes, you can. Follow the instructions on your summons to apply for these options.
Will the courthouse be clean and safe? Yes, the courthouse, courtrooms and jury deliberation rooms will be cleaned thoroughly daily. Protecting the health and safety of the public and courthouse staff is essential.
Will the courtroom and jury rooms adhere to the CDC precautionary measures of social distancing? Yes, the court will adhere to the CDC precautionary measures. Jury positions will be marked in the assembly room and courtrooms as well as the jury deliberation spaces.
Will I have to bring a mask and gloves? Jurors/prospective jurors will be required to wear face coverings. If you desire to bring and wear your own personal protective equipment, you may do so on the day you report for jury duty. The court will also have masks available. For those seated on a jury the court will provide Department of Labor & Industries approved KN95 facemasks.
Will the courthouse have hand sanitizer dispensers and hand washing areas available? Yes, hand sanitizers and hand washing areas are available in the courthouse.
What if I feel unsafe or sick after reporting to jury service? Contact a member of Jury Administration immediately or, if assigned to a jury pool, your assigned court bailiff.
What if I feel sick the day I am to report for jury service, do I stay home? If you feel sick, stay home and contact Jury Management or your assigned court bailiff for instructions.
"Without you participating, there is no justice."
Important Notice to Jurors:
Most jury trials last 3 to 4 days and jurors are free to return home in the evenings. Jurors are usually required to serve on one trial.
Jurors are selected at random from lists of voter registrations, drivers licenses, and Washington State identification cards for residents of Chelan County. The lists are combined and duplicate names are eliminated. However, different spellings or name variations may result in duplication.
Jurors are compensated at rates established by State and County law. Per Diem and mileage will be paid. Please check your odometer when traveling to court. Checks are usually mailed four to six weeks after the jury term ends.
Jurors Must:
Be a citizen of the United States
Be at least 18 years of age
Reside in Chelan County
Be able to communicate in the English language (RCW 2.36.070)
Not be a convicted felon or if convicted, must have had his or her rights restored
Very few people are excused from jury duty. RCW 2.36.100 states that no person may be excused from jury service by the court except upon showing undue hardship, extreme inconvenience, public necessity, or any reason deemed sufficient by the court for the period of time the court deems necessary.
How Service Works:
Each juror is assigned a group number and juror number for the two week term of jury service.
Jurors must call their assigned phone number after 5:00 p.m. on the Friday before the first day of jury duty and listen for his or her group number. The recording will tell the juror which group numbers are supposed to report for jury service on the next court day.
If the juror is not needed to report, the recording will reschedule the juror for another day during the two week term. The juror must then call the recording again after 5:00 p.m. the night before the next scheduled reporting date for updated reporting instruction.
Chelan County uses a "phone-in" system to inform jurors when their services will be required. You must call until you are excused from service.
Call after 5:00 p.m. on the day instructed. You will report for duty the following working day or you will be instructed to call again. Jurors are identified by their "group number" printed on the reverse side of your instructions. Listen carefully to be sure that the message on the recording is for your assigned jury group.
If you forget to call, call the jury administrator at (509) 667-6383 the following day between 8:30 a.m. and 5:00 p.m. Don't call the recording on a different date, as it will have been set for a new jury panel. ( Exception : Friday night messages are available for the entire weekend.)
If you do not receive a message, please check to be sure that you are calling on the correct month and day. If the equipment malfunctions, a message for jurors will be placed on KPQ Radio news.
You will serve on only one trial. Trials are usually one to three days in duration.
Compensation:
Jurors are compensated at rates established by State and County law. Per Diem and mileage will be paid. Please check your odometer when traveling to court.
Please dress appropriately. (No tank tops or shorts.) Do not bring small children.
For Information:
Call 667-6383 between 9:00 A.M. and 5:00 PM Monday through Friday.
Return questionnaires or requests for excuse within 10 days.
Courtroom Protocol:
Dress appropriately. Dress slacks, shirt, skirt, or blouse show respect for the court. Clean jeans and dress shirt would also be acceptable. Hats are not allowed.
Food or drinks are not allowed in the courtroom.
Weapons of any kind are not allowed in the courthouse.
The courtroom is not an appropriate place for children. Please arrange for someone to watch them while you are in court. Even if you plan on leaving your children in the lobby, if they are too noisy and it disturbs court proceedings, security may have you remove them from the building.
Your employer must allow a juror time off from work to serve on jury duty. State law says employers "shall not deprive an employee of employment or threaten, coerce, or harass an employee or deny an employee promotional opportunities" for serving as a juror. However, an employer is not required to compensate the difference in pay for jury service.
Posted: 01/16/2015 04:52 PM
Last Updated: 09/09/2020 03:10 PM