Noxious Weed Control Board
Projects
Common Crupina
Common crupina is a Class A weed in Washington state, requiring eradication. The only population of this weed know to occur in the state is in Chelan County in the steep slopes on the north side of Lake Chelan.
The weed management plan is short term containment and reduction within contained areas, and eventual eradication. This goal, while very difficult because of logistics, is achievable because of the geographic isolation of this infestation, lack of road access, and natural barriers that are helping to keep the infestation in place.
The control methods have been the direct treatment of crupina plants by either hand pulling or backpack spraying. Additional activities include survey and monitoring of previously treated areas, currently un-infested areas, and recently disturbed areas (fire areas).
Our long-term conservation outcome is the containment, reduction, and eventual eradication of common crupina from the only known site in Washington State. Crupina does not grow under dense, forest canopy cover, and is typically shaded out by about 2500 feet elevation. The steep mountain range between Lake Chelan and the Methow valley to the east serves as an effective natural barrier for crupina. Likewise, Lake Chelan is a barrier along the west side of the infestation. The steep cliffs on the south end of the infestation were not grazed by livestock and are not infested. The south boundary is monitored yearly. At the northern end of the infestation, at the boundary of the National Park Service Land, the aspect changes, and shady forest grows along the lakeshore. Unfortunately the Flick Creek fire burned this northern end of the infestation in 2006. The burned area is monitored yearly
This outcome is very important for several reasons: winter range; loss of shrub steppe/dry forest eco-zones throughout Chelan County due to development; climate change; sensitive plant protection; threatened and endangered wildlife, wilderness and National Park management goals; aesthetic values; native plants and animals, water quality, and protection of economically valuable crop and range lands throughout Eastern Washington.
Knotweed Control Project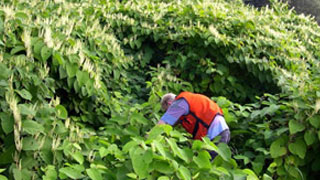 The Knotweed Control Project began June 1, 2009 to survey, identify and control Noxious Weeds in Chelan County with a Participating Agreement and Title II grant funding from the US Forest Service. Mission Creek was selected as the target area.
As the survey progressed, we obtained Washington State Dept. of Agriculture permission contracts to enter and treat at the same time. Based on the density of the Knotweed stands it was estimated the treatment program would be a multi-year project This project is a very large multi-year project, Japanese Knotweed is a very aggressive competitor reproducing mainly by rhizomes. The intent of the project is to stop the spread of Japanese Knotweed in its current locations through a multi-year spray program, which has been proven to be the best way to control Knotweed.
Japanese Knotweed has invaded many of the most important tributaries to the Columbia River system; one example is Mission Creek, which is part of the Wenatchee River Watershed Action Plan 1998. Mission Creek has a monoculture understory of Japanese Knotweed along the lower 3 miles. This is only one of many drainages that have been inventoried, and each drainage is part of an endangered species anadromous fish migration and spawning waterway.
Japanese Knotweed can and will change the hydrology of the entire drainage if it is left unchecked. To recap the action items for this project: complete inventory and mapping, spray or remove invader species in areas that are currently identified, provide an education program to the public to assist in continued control efforts, and replace sprayed Knotweed with native understory plants, a cooperative project with the Wenatchee River Watershed Action Plan, Chelan County Natural Resources Dept., and District.
Fish Lake Garden Loosestrife Project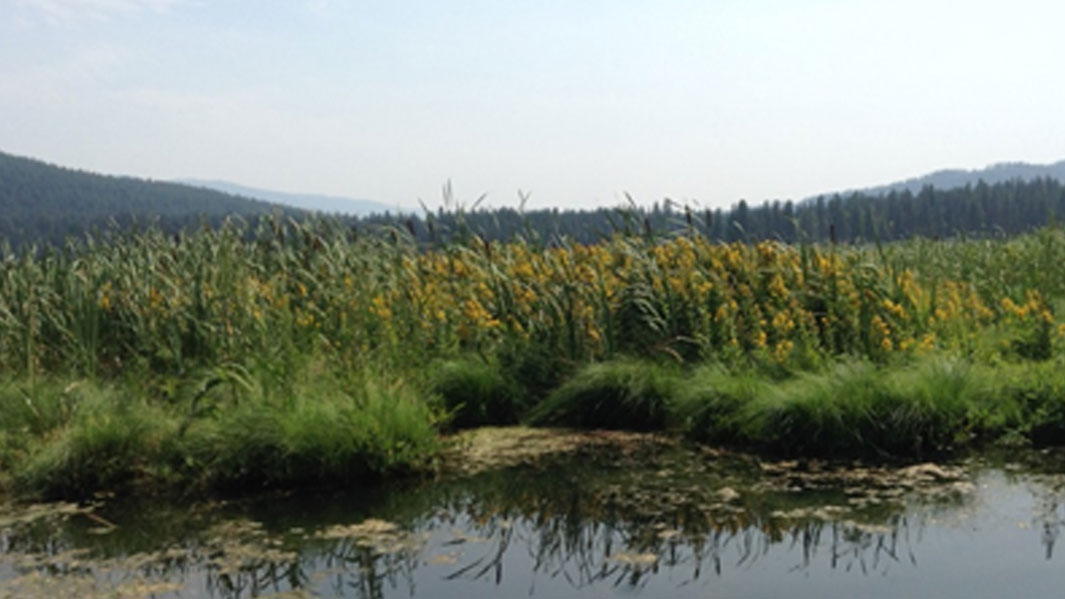 Chelan County Noxious Weed Board was awarded grant funding from Department of Ecology (DOE) to hire contractors to spray Garden Loosestrife on Fish Lake in 2020 and 2021. Garden Loosestrife is a Class B designate in the State of Washington, in which control is required. Garden Loosestrife has been documented in Fish Lake by DOE dating back to 1999. Fish Lake drains into the Wenatchee River, home to several Endangered Salmonid Species. Initial suppression actions were not effective and garden loosestrife has since spread around to approximately 75% the perimeter of the shoreline. Currently, Fish Lake is the only known patch of Garden Loosestrife in Chelan County.
Garden Loosestrife is a shoreline aquatic emergent perennial plant native to Eurasia. It can reproduce both by seed and rhizomes. Garden Loosestrife has showy yellow flowers that are clustered at the top of the stem. Each flower has five sepals and five petals and generally blooms in July to September. The leaves of garden loosestrife are opposite or whorled and stems are round and have soft hairs.
Control methods of Garden Loosestrife are limited and current best practices are with the use of an aquatic based herbicide, imazapyr and aquatic formulation of glyphosate at recommended rates. These herbicides have been approved by the Okanogan-Wenatchee National Forest, Forest-wide Site-specific Invasive Plant Management EIS. Chelan County Noxious Weed Board is working in collaboration with the National Forest on long term control options.
Posted: 02/02/2015 09:21 AM
Last Updated: 12/29/2020 11:39 AM