T-shirt fundraiser to benefit justice center's K-9 Kait
The Chelan County Regional Justice Center is having a t-shirt fundraiser for its most popular employee – K-9 Kait the narcotics detection dog.
K-9 Kait came to the CCRJC in November 2020. Her handler is Deputy Jacob Lewis. The team is not only the first K-9 unit at the local facility but also only the second unit in the state to be assigned to a county or municipal jail.
In only six months, K-9 Kait and Deputy Lewis have had 72 deployments, or searches, with 38 verified finds.
"Thirty-eight times she has prevented narcotics from entering the facility, and 38 times she has prevented possible overdoses from occurring," Lewis said of his partner. "Just K-9 Kait's presence alone has become a deterrent for those attempting to introduce contraband into the justice facility."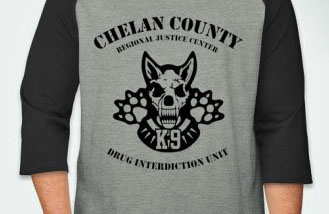 The regional justice center's K-9 program is primarily funded by donations and services provided by community members and local businesses. People can help support the program by purchasing a t-shirt and becoming a part of Team Kait.
The limited design t-shirts are $20 each, with adult and youth sizes available. T-shirts are on sale through June 12, with orders shipping one to two weeks after the fundraiser ends. Money raised from the shirt sales go directly to the CCRJC K-9 program. For more information, or to order a t-shirt, go to the CustomInk website.
In addition, watch for upcoming meet-and-greets with Deputy Lewis and K-9 Kait. All events are posted on the CCRJC Facebook page.
The K-9 unit is a part of the regional justice center's Drug Interdiction Program, which works to keep illicit drugs out of the facility by employing new technologies and the narcotics detection canine.
Last Updated: 05/134/2021 03:21 PM