Juvenile Justice Center
Juvenile Detention Facility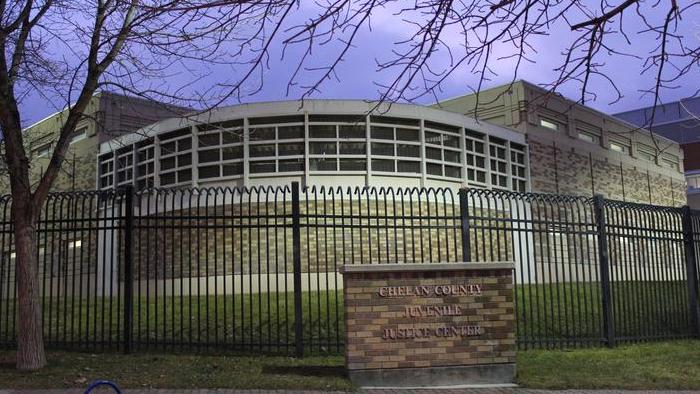 The Chelan County Juvenile Center operates a 50-bed juvenile detention facility. The building was completed in 1998, and is located at the corner of Washington and Orondo, across the street from the old county courthouse.
Youth housed in the detention facility fall into two categories: pending and court-ordered. Pending youth are those who have been arrested by law enforcement either on a warrant or pursuant to the investigation of a new crime. These youth may be housed in detention while awaiting court hearings or the judge responsible for the case may allow release under a bail requirement and/or conditions of release. Court-ordered youth are those who have been found guilty and have been sentenced to detention by the court for a crime or a probation violation.
Assessment and Services
During a youth's stay in detention, services are available to address medical, emotional, and mental health needs. All youth receive standardized assessments to determine the existence and severity of substance abuse and mental health problems. Classes and groups are provided, as indicated, to address issues such as anger control, drug and alcohol use, and life skills.
Daily Activities
A full-time, in-house school program is operated by the Wenatchee School District. All detention youth are required to attend school Monday through Friday. Privileges are earned through a formal level system that requires youth to earn points for appropriate behavior every day. Chores, meals, and recreation and other structured activities make up the balance of the daily schedule. Whenever youth are confined to cells, staff make rounds to check on their status every 15 minutes.
Visitation and Phone Calls
Visiting Hours are 6:15pm to 8:15pm on Tuesdays, 1:30pm to 4:00pm on Saturday, Sundays and holidays and 9am to 10:45am on holidays.
Visitation is restricted to Parents/guardians. Exceptions must be approved by the probation counselors.
Visitation is a privilege, and allowed per the rules and level system.
Visitors may not bring food or drink.
All mail must be sent through the United States Postal Service.
Visitors must leave their coats, purses, and other belongings in the trunk of their car.
Youth may make one outgoing phone call per day to parent/guardian per the rules and level system.

PREA (Prison Rape Elimination Act)
It is the policy of the Chelan County Juvenile Court to immediately investigate all reports of sexual abuse or sexual harassment of a resident alleged to have occured in detention by another resident, staff member, contractor, or volunteer. Whenever a report of sexual abuse or sexual harassment of a resident alleges acts that constitute a crime, the supervisor or manager receiving the report will immediately contact law enforcement to initiate a criminal investigation. See Policy 2.1A (PREA Investigations)
In order to request a copy of the agency's primary PREA policy (policy 2.1, Preventing Sexual Abuse of Youth in Detention) please contact Emilio Iniguez, Juvenile Detention Manager as follows: (509) 667-6553 and email: emilio.iniguez@co.chelan.wa.us
Chelan County Juvenile Detention PREA Audit Report
Parent Handout
Your child is being held at the Chelan County Juvenile Center. During your child's stay, he or she has specific rights, responsibilities, and can earn specific privileges.
A juvenile probation counselor will be assigned to your child's case. Detention staff can assist you in answering some questions, but the juvenile probation counselor has primary authority over the case. If you do not know who the probation counselor is, please call the front desk at 509-667-6350, Monday through Friday from 9:00 AM to 5:00 PM for assistance.
Programs
We require each youth to attend school in detention and, depending on the status of his or her case, a number of other programs during the day. These programs are designed to promote cooperation and teach youth how to stay out of trouble. They may include social skills training, drug/alcohol prevention or intervention, recreation, and other structured activities.
Rules and Level System
When youth are admitted, they are provided with a verbal orientation and the Rules and Level System booklet. This booklet explains all the do's and don'ts of detention. Youth are tested on the rules, and can't join the daily program until they pass the test.
The detention level system provides a positive atmosphere which encourages youth to behave appropriately during their stay. Consistent rewards and consequences for positive and negative behavior are applied.
There are four levels in the level system, and youth move up or down based on the number of points they earn each day. Points are earned in four categories, First Impressions, Manners, Personal Responsibility, and Self-Improvement. Privileges are earned by moving to a higher level. Ask your child or a staff member to further explain the level system to you.
Youth who present a high security risk based on the nature of their crimes or their behavior in detention are placed on security status. Youth on security status may be confined to their rooms at times and forfeit other privileges.
Medical Services
You will be asked to sign a medical consent form for your child prior to medical services being provided. If necessary, juvenile court administration will sign this form on your behalf. Your child will receive all prescribed medications and be cared for by staff on duty. If necessary, emergency treatment will be provided. You may be billed for any medical services.
Religious Services / Observance
A chaplaincy program is offered at different times during the week. Youth or families expressing a need for other religious instruction may make that request through their juvenile probation counselor.
Visitation
Visiting is scheduled on the following days and times:
| | |
| --- | --- |
| Saturdays | 1:30 pm to 4:00 pm |
| Sundays | 1:30 pm to 4:00 pm |
| Holidays | 9:00 am to 10:45 am and 1:30 pm to 4:00 pm |
| Tuesdays | 6:15 pm to 8:15 pm |
Visiting is scheduled in 15 minute segments, on the quarter hour. There are three contact visiting rooms and two non-contact visiting rooms. If your child is on program level II or room confinement, you will visit in a non-contact visiting room. If your child is on security, visits will not be allowed. Please check in prior to visiting by pressing the intercom located by the lobby entrance on Washington Street. You will be given a time when the next group will enter. When staff bring in the groups, if you are not present, you will be bumped to the next open time slot. Only parents and legal guardians may visit. Staff may ask you for identification prior to your visit.
If you have not signed a medical consent form, let staff know and one will be provided. Please do not bring food, candy, pop, clothes, games, cigarettes, or reading material for your child. Notes or letters brought from home are not allowed. We provide all meals, clothing, and toiletries as needed. Visitors are requested not to bring any personal items, except car keys, with them to visit. This will assist you in getting through court security faster. Coats, purses, bags, etc. are not allowed in detention. Coin operated lock boxes are available for small items.
There is no smoking allowed during visits. Any person who is intoxicated or appears to have been drinking or using drugs will not be allowed to visit. Inappropriate language and disrespectful behavior will not be tolerated. We have the right to refuse or terminate visiting privileges in such situations.
Letters and Phone Calls
Your child may send and receive letters via the U.S. Postal Service. No packages may be sent or received, and notes or letters brought from home are not allowed. Incoming letters will be opened in your child's presence to search for contraband, but letters will not ordinarily be read by staff. Outgoing mail from your child will not be read unless there is reason to believe it contains information that threatens the safety and security of the facility.
Your child may make phone calls to you. Calls may be made during free time and visiting hours. Parents may not call youth in detention.
Damages and Contrabands
Any intentional damage done to the facility, or other misconduct may result in the loss of privileges, monetary penalties, and possible criminal charges. Any person trying to pass items to your child or trying to bring contraband into the facility could be charged with the crime of Introducing Contraband into a Correctional Facility. This is a serious offense. Contraband includes, but is not limited to, food items, tobacco products, matches, weapons, and drugs.
Special Residential Programs
If your child is in the Secure Crisis Residential Center (CRC), you will be informed of other procedures, rules, and information by staff from this program.
Grievance Process
Your child has the right to be treated in a fair, just, and humane manner while in detention. Accordingly, your child has the right to an official review of any complaints regarding their treatment by custody staff, school staff, volunteers, or service providers. The purpose of the grievance process is not merely to resolve ordinary conflict and disagreements, but to protect future residents from misconduct and unfair treatment. Your child will not be punished for filing a grievance so long as there was no bad faith involved. Nothing in the grievance process is intended to limit or eliminate any other relief available to your child under law.
A grievance is a formal complaint, reduced to writing, about your child's treatment in the detention facility or a conflict with another staff or youth. Your child may file a grievance for any reason. If the complaint involves a serious issue, a grievance should be filed. Serious issues are those issues that involve allegations of sexual abuse or harassment, retaliation for such conduct, or staff neglect or violation of responsibilities that may have contributed to such incidents. It also includes any misconduct or treatment that creates a risk of physical harm, is a law violation, or a violation of the constitutional rights of a resident. Your child may file a grievance regarding serious issues even after release from the facility.
In addition, third parties such as parents, guardians, advocates, or fellow detention residents may file a grievance on a resident's behalf for serious issues. Serious third party grievances will be considered and investigated regardless whether your child has agreed to have the grievance filed on their behalf. The fact that a third party is grieving does not stop your child from filing their own grievance. In addition to the right to file a grievance for serious issues, third parties may assist youth in filing. Parents and guardians may provide assistance via mail or telephone or in person during normal visiting sessions. Attorneys and advocates representing youth may arrange special visitation for the purpose of providing assistance.
If your child has a physical, developmental, or learning disability that prevents them from putting their grievance in writing, the juvenile detention manager will assist them, as necessary, in writing the grievance.
To file a grievance, your child may request a grievance form from any custody staff member. Custody staff will promptly provide access to grievance forms and all necessary tools, along with the opportunity to fill out and file a grievance, whenever youth request to do so. Your child should then fill out the grievance form, sign their name, and place it in one of the lock boxes located in each living unit. Only the detention manager has a key to access the lock boxes. The detention manager checks the boxes daily. In addition, your child may choose to submit the grievance through a trusted staff, probation counselor, or give it directly to the detention manager. Parents, guardians, and youth who have been released may send a grievance via USPS to the attention of the detention manger or juvenile court administrator at the following address:
Chelan County Juvenile Court
316 Washington Street, Suite 202
Wenatchee, WA 98801
It is also an option for you or your child to request a meeting with the detention manager in person. This can be facilitated by contacting Emilio Iniguez, Juvenile Detention Manager as follows: (509) 667-6553 and email: emilio.iniguez@co.chelan.wa.us
A grievance for a minor issue must be filed within 10 days of the incident. There are no time limits for filing grievances of serious issues, though as a practical matter, management's ability to provide meaningful relief to a particular grievant becomes more difficult, or impossible, with the passage of time. However, serious issues that occurred in the past should be reported and will be addressed by management in order to prevent harm to subsequent residents.
The review process for a filed grievance is as follows:
Step One- The detention manager will review the grievance, conduct a discussion with your child and others involved, investigate to the extent reasonably necessary in light of the seriousness of the issue, and render a decision in writing within 10 working days.
Step Two- If you are not satisfied with Step One, all written materials will be forwarded to the juvenile court administrator who will render a decision in writing within 10 working days of receiving the Step One grievance.
The detention manager and juvenile court administrator may extend the time to respond at each step up to an additional 10 working days if necessary.
If, at any stage of the grievance, you do not receive a response within the time limits (including proper extensions) you may consider the absence of a response to be a denial at that level and proceed to the next level.
Emergency grievance process:
If your child believes they are subject to a substantial risk of imminent sexual abuse, they (or a third party on their behalf) may file an emergency grievance. Any grievance that alleges or asserts facts that reasonably indicate the presence of such risk will be expedited. The detention manager or juvenile court administrator will take immediate corrective action on an emergency grievance when a determination is made that the youth is at risk. Emergency grievances require an initial response within 48 hours, and a final agency decision within five calendar days.
We hope this handout is helpful to you. If you have any questions, please don't hesitate to ask custody staff or your child's assigned probation counselor.
In order to file an emergency grievance please contact Emilio Iniguez, Juvenile Detention Manager as follows: (509) 667-6553 and email: emilio.iniguez@co.chelan.wa.us
Posted: 01/21/2015 10:59 AM
Last Updated: 01/05/2022 08:46 AM