Solid Waste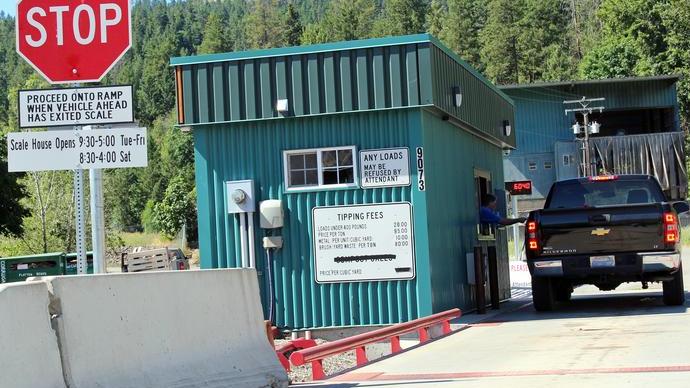 Public hearing on Final Draft of solid waste management plan set for Nov. 21
State law requires every county in the state, in cooperation with the various cities located within a county, to prepare a coordinated, comprehensive solid waste management plan. The Final Draft of the Chelan County Solid Waste Management Plan, developed through a team effort by Chelan County, the Solid Waste Council, local cities and the Solid Waste Advisory Committee, is now available for public comment. The Final Draft is available here.
Written comments are being taken until 5 p.m., Friday, Nov. 17, 2017. Written comments can be mailed to Chelan County Public Works Solid Waste Department at 316 Washington St., Suite 402, Wenatchee, WA, 98801. Or email written comments to public.works@co.chelan.wa.us.
Comments also will be taken at a Public Hearing for the review of the Final Draft, to be held at 9:30 a.m. on Tuesday, Nov. 21, 2017, at the Chelan County Commissioners Office, 400 Douglas St. in Wenatchee.
Solid waste program seeks RFPs for two projects
Solid Waste seeks an engineering team to design site layout and construction blue prints and bidding documents for the construction of a second tipping floor at its Dryden Transfer Station. The project shall include a 50-foot long tipping area where the public can safely unload garbage into a transfer truck trailer. The submitted Request for Proposals should demonstrate the team has experience with current and local design/build practices and possess the education, training and credentials associated with the type of work described. Written RFPs are due by 4 p.m. on Friday, Oct. 6, 2017.
Solid Waste also seeks proposals for the removal and recycling of metal and vehicles from the transfer station. The agreement will be for a three-year term with a possible one-year extension. Written responses are due by 4 p.m. on Thursday, Oct. 12, 2017. Requests must be mailed or dropped off in person. Read the full RFP for details.
Dryden Transfer Station
Chelan County operates the Dryden Transfer Station. The transfer station is at 9073 Highway 2, one mile east of the Highway 2 and Highway 97 Blewett Pass road junction. Entry is only possible from the eastbound lanes of Highway 2. The transfer station can be reached at 509-548-5592.
Hours:
Tuesday - Friday: 9:30 a.m. - 5 p.m
Saturdays: 8:30 a.m. - 4 p.m.
The transfer station is closed on holidays.
Accepted types of payment at Dryden Transfer Station are cash or check only; we do not accept debit or credit.
Tipping Rates at the Dryden Transfer Station
| | |
| --- | --- |
| Brush/Tree Trimmings* | $80 per ton (minimum fee for loads under 200 lbs. is $10) |
| General Solid Waste (Garbage) | $95 per ton (minimum fee for loads under 400 lbs. is $20) |
*If you live in or operate your business in the apple maggot quarantine area of western Chelan County, you cannot bring brush or yard waste to the Dryden Transfer Station. You must bring your green waste to the day pit on East Leavenworth Road.
Recycling Opportunities at the Dryden Transfer Station
(Note: Due to market conditions and shipping costs, clear or colored glass is no longer accepted at the Dryden Transfer Station as a recyclable; glass can still be disposed at regular tipping rates.)
| | | |
| --- | --- | --- |
| Aluminum Cans | Mixed Paper | Plastic Milk Jugs |
| Cardboard | Newsprint | Tin Cans |
| Scrap Metal* | Office Paper | Metal Appliances* |
| Magazines | Glossy Paper | Pop Liter Bottles |
*Loads of scrap metal and appliances are $10 per load. Appliances that have or previously had coolant are $25 per unit.
Leavenworth Brush Drop-Off Site
A drop-off brush yard on East Leavenworth Road is available to residents and businesses in the apple maggot quarantine area. Brush, tree and bush trimmings, garden waste, needles and leaves are accepted. No rocks, dirt, sod, lumber or garbage are allowed.
Location: Chelan County day pit on East Leavenworth Road, near the Icicle Road intersection
Hours: 8 a.m. to 3 p.m. Fridays (closed November-March)
Cost: $10 a cubic yard, with a minimum fee of $10
Other Transfer Stations in Chelan County:
Wenatchee Transfer Station (Operated by Waste Management)
1421 S. Wenatchee Ave. in Wenatchee 509-662-8885
Open Tuesday – Saturday, 9 a.m. to 5 p.m.
Chelan Transfer Station (Operated by North Central Recovery & Recycling)
23235 State Highway 97A in Chelan 509-682-5631
Open Tuesday -- Saturday, 10 a.m. to 4 p.m.